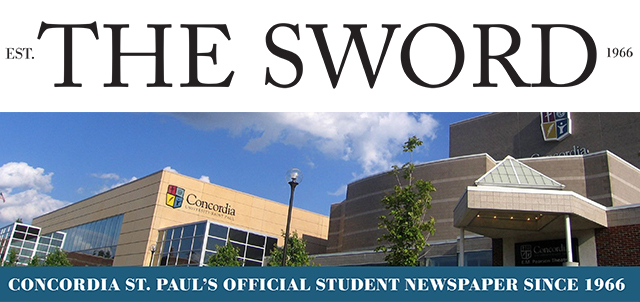 Title
Editor in Chief
Mara Grau
Description
Contents:
News:
Elon Musk's SpaceX;
St. Paul Rolls Out New Basic Life Support Rigs;
Instagram Takes on Body Image Issues;
Mattel Introduces Gender-Neutral Doll;
Bankruptcy for Forever 21;
California Becomes First State to Pay College Athletes;
Investigators Identify the Deadly Chemical Found in Vapes;
Officer Who Shot Her Neighbor Found Guilty of Murder;
Update on the Hong Kong Protests;
Opinion:
Another Day in Trump's America;
Ethnic Studies are Missing the Mark Left and Right;
Gen Z is Turning Out to be One of the Best Generations;
Police in Schools: For Better or Worse?;
Impeachment is in the Air;
Increased Gun Violence in St. Paul;
2019 Halloween Costume Guide;
Is California Opening up Pandora's Box by Paying College Athletes?;
Sports:
CSP Soccer Team Earns First Ever National Ranking;
CSP Volleyball Off to Another Good Start;
Golden Bear Men's Basketball Season Preview;
Concordia's Esports Team Gears Up for Inaugural Season;
CSP Cross Country Sets Sights on NSIC and NCAA Championships;
CSP Football Continues Strong Season;
CSP Golf Teams Head into Final Tournaments of the Season;
Loons Secure First MLS Playoff Appearance;
Golden Bear Women's Basketball Looks to Build on Last Season's Success;
Minnesota Wild Season Preview;
Timberwolves Hopeful for Success After an Eventful Offseason;
Arts and Variety:
What is Forbidden? 20th Anniversary of the Women's Art Institute;
Food Review: The True Home of the Juicy Lucy;
Book Review: The Sword of Shannara;
Music Spotlight: Phong Mai;
Into the Dreadwoods for the Last Time;
Golden Bears Leave Their Mark at AIGA Design Camp 2019;
Artist Spotlight: Skye Fuller;
Review: Saturday Night Live's 45th Season Premier;
Movie Review: Abominable;
Music Review: Marina Dazzles at The Orpheum;
Copyright
This is not an official CSP publication and does not necessarily reflect the view of the administration, faculty, or staff. For all questions related to copyright and reuse of these materials, contact The Sword via email at sword@csp.edu.
Recommended Citation
Last, First. "Article Title."The Sword [St Paul] Mon YEAR: pages. https://digitalcommons.csp.edu/sword/
Issues of The Sword are available for CSP students, faculty, and staff. Please create an account and sign in with your @csp.edu email address for full text access to this issue of The Sword.
COinS