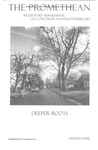 Publication Date
Spring 5-1-2014
Letter from the Editor
Every year, the staff of The Promethean strives to compile a magazine that tells the story of a greater group of writers. Though all are different, they write about a greater Truth.
This year, we decided to inspire the writers by taking a quote from an American legend, Dolly Parton.
"Storms make trees take deeper roots."
Pain and sorrow are among the stronger of emotions and a great equalizer among all people. Though sorrow makes for mournful works, it is through the hardships and pain that we are better able to experience the goodness that the world has to offer.
When considering pieces to be published in The Promethean, the editors always consider the audience of our publication. We always strive to find pieces that give voice to those that might be struggling with the same issues or those that might have thought they were isolated in their struggles. I believe that we have more than succeeded in this.
Through the bravery of all of our writers and the determination of both Holly Goodrich, Dr. Kim Knutsen and the editors of The Promethean, I am proud to present to you Deeper Roots.
Raeann Bauer, Managing Editor
Managing Editor
Raeann James
Assistant Managing Editor
Allison Woodruff
Faculty Advisor
Dr. Kimberly Knutsen, Holly Goodrich
Cover art by
Katie Wartell
Disciplines
Creative Writing | Fiction | Nonfiction | Poetry
Rights
The Promethean is an annual journal of the College of Theology, Arts, and Sciences of Concordia University-Pordand. The publication of The Promethean is made possible with funding from the Associated Students of Concordia University (ASCU). The content is chosen by an editorial staff of faculty and student editors. The opinions expressed in the journal do not necessarily reflect those of the College of Theology, Arts, and Sciences of Concordia University. All works are copyrighted.
Recommended Citation
English Department, Concordia University-Portland, "The Promethean, Volume 22, Deeper Roots, 2014" (2014). The Promethean. 38.
https://digitalcommons.csp.edu/cup_archives_promethean/38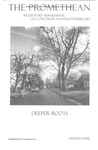 Included in
COinS