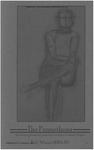 Publication Date
Fall 9-1-2004
Letter from the Editor
How do we decide what kind of material to print in the Promethean? It seems like that ought to be a simple question to answer, even one with an obvious answer: the best writing from the students, staff, and faculty of Concordia University. But, in fact, it's a question and a conflict that while it has frustrated some students and Promethean staffers, has ultimately vitalized our sense of purpose and energized the conversation about the role and shape of the literary arts at a Christian university. And so, since last spring, we have been wrestling with questions of what kind of art not only best represents the Christian ethos of our community, but also challenges and even complicates our understanding of the human experience, in all its dimensions.
To that end, we have proposed a vision statement that attempts to speak to potential writers and readers about what they can expect to find within these pages:
The Promethean is the journal of literary arts of Concordia University. We welcome contributions of poetry, short fiction, essays, and black and white art of the highest quality that affirm the diversity of our community, embrace our spiritual legacies, and challenge the creative spirits of our readers.
Does this mean we intend to print only writing that somehow speaks directly, in a specifically affirming way, to and about the Christian experience? No. A literary magazine is neither a daily devotional nor a forum exclusively for witness and proselytizing. We imagine that some of the writing within will speak from writers' faith walks and some of it will not. Does it mean that we will print writing that, in its language, subject matter, or detail, will sometimes challenge readers? Yes. Affirming the human experience, in all its diverse forms, and acknowledging the struggle and conflict individuals face in their lives requires truthfulness and courage in its representation — and sometimes that truthfulness manifests itself in a bluntness of language and grittiness of detail that will challenge some readers.
Does it mean there is some writing, though of a certain quality, that will not find a home in the Promethean? Probably so. Crass nihilism, sensationalized sexuality, or writing that is antithetical to the affirmation of faith, is by definition, often flawed literarily, and so, though perhaps appealing to some, ultimately does not merit inclusion.
Those ofus who have been involved in this conversation hold the literary tradition in the highest esteem and to the highest standard. Like Prometheus, we too want to bring light and truth to our community. There is no greater gift to that cause than your participation, as readers and writers.
Assistant Managing Editor
Sara Bonacum, Anthony Fuchs, Darrina Muhammed, Aaron Snyder
Faculty Advisor
Lynnell Edwards
Cover art by
Julie Nguyen
Disciplines
Creative Writing | Fiction | Nonfiction | Poetry
Rights
The Promethean is an annual journal of the College of Theology, Arts, and Sciences of Concordia University-Pordand. The publication of The Promethean is made possible with funding from the Associated Students of Concordia University (ASCU). The content is chosen by an editorial staff of faculty and student editors. The opinions expressed in the journal do not necessarily reflect those of the College of Theology, Arts, and Sciences of Concordia University. All works are copyrighted.
Recommended Citation
English Department, Concordia University-Portland, "The Promethean, Volume 13, Number 01, Fall/Winter 2004" (2004). The Promethean. 27.
https://digitalcommons.csp.edu/cup_archives_promethean/27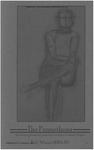 Included in
COinS