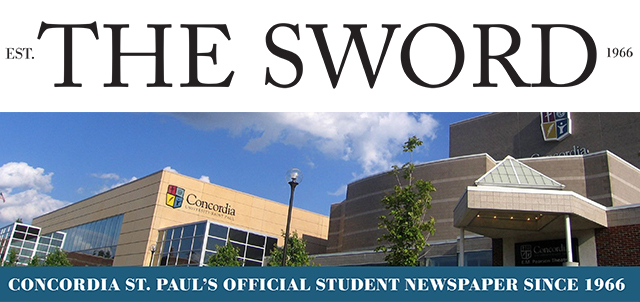 Title
Editor in Chief
Davina Bellinger
Description
Contents:
News:
CSP's Annual Knollapalooza
Student Senate Update
The Sunshine Protection Act
"No War! Stop the War!" Woman Interrupts a Live Russian Broadcast
MN Teachers On Strike
Opinion:
Can You Prepare for the Rest of Your Life?
Preparing for Finals
Concordia Mental Health
Stan Culture for Better or for Worse "At the End of the Day, We're All Die-Hards for this Thing"
Music Review Skillet: Dominion
Sports:
CSP Track and Field Outdoor Track Preview
Brady is Back
Indoor Track and Field Season Recap and National Meet Highlight
Arts & Variety:
Book Review: Mornings in Jenin
MPLS Monthly Vintage Market
Eurydice Review
We Don't Talk About Bruno: The Parental Rights in Education Bill
Travel Seminar Review: Scotland
Taking inspiration from Curious George; Learning about Maple Syrup
Recipe Review: Crispy Gau Gee
Horoscope
Restaurant Review: Hola Arepa
Class Experiences Click To Expose A Life In Artistic Photography
Restaurant Review: Bona Vietnamese Restaurant
Where Music and Visual Art Meet- Rock the Garden festival 2022
Senior Spotlight: Lindsey Bahr
Letter to the Sword One Haik(ool) Cat
Word Search
Crossword
Coloring Page
Copyright
This is not an official CSP publication and does not necessarily reflect the view of the administration, faculty, or staff. For all questions related to copyright and reuse of these materials, contact The Sword via email at sword@csp.edu.
Recommended Citation
Last, First. "Article Title." The Sword [St Paul] April 2022: pages. https://digitalcommons.csp.edu/sword/
Issues of The Sword are available for CSP students, faculty, and staff. Please create an account and sign in with your @csp.edu email address for full text access to this issue of The Sword.
COinS