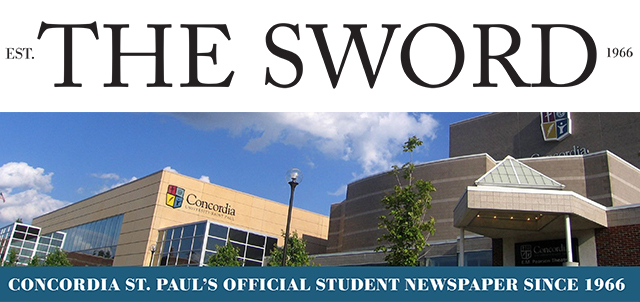 Title
Editor in Chief
Davina Bellinger
Description
Contents:
News:
Updates from Student Senate
The Woman Behind the Wrap
Stricter Guidelines on SPPS Schools
Opinion:
Let's Wrap This S--- Up!
Love Actually: A Christmas Movie
What makes Christmas so special? Love.
The Romanticizing of Mental Illness
What Makes for a Good Christmas? Loved Ones.
Sports:
Minnesota Timberwolves in December
Swim and Dive Mid-Season Update
Vexing Vikings
Suns' Historic Win Streak
Arts & Variety:
Senior Spotlight: Erika Soukup
Fiddler on the Roof Review
Christmas Traditions Last Through the Years
New Year's Resolutions: How to Make Them a Success
Kan, the Chart-Topping Don(da)
Beirut Restaurant
Russian Kotleti
King Richard: A Movie Review
Overcoming Life's Sorrows
Copyright
This is not an official CSP publication and does not necessarily reflect the view of the administration, faculty, or staff. For all questions related to copyright and reuse of these materials, contact The Sword via email at sword@csp.edu.
Recommended Citation
Last, First. "Article Title." The Sword [St Paul] December 2021: pages. https://digitalcommons.csp.edu/sword/
Issues of The Sword are available for CSP students, faculty, and staff. Please create an account and sign in with your @csp.edu email address for full text access to this issue of The Sword.
COinS