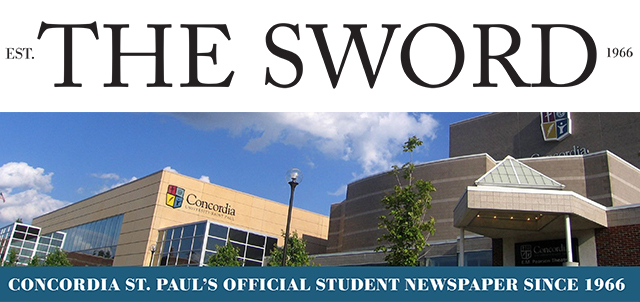 Editor in Chief
Mara Grau
Description
Contents:
News:
Allegations of YouTube Illegally Tracking Children's Data Results in New Platform Restrictions;
Boy Thrown from MOA Balcony is Home;
Hong Kong Protests;
Nature's Outcry;
New Disease Affecting the Minnesota Deer Population;
Brains Without Brawn;
Phone Companies and the FCC Fight Robocalls;
The State Fair Shooting Affair;
American Dairy Farmers Hit by Trade War with China;
Arts and Variety:
A Cross Over Between Life, Death, and Bugs;
Art in the Cities Preview;
Arts Preview;
CSP Music Preview;
CSP Theatre Preview;
Movie Review: Blinded by the Light;
Music Review: Inexedra - Retrohack;
Book Review: All These Wonders;
Scream It Off Screen September 2019;
Sports:
Can They Keep the Magic Alive? Minnesota Twins Playoff Predictions;
Vikings' Season Filled with High Expectations Despite a Down 2018;
Golden Bear Football Starts Off 2019 With a Bang;
Golden Bear Women's Soccer;
A Hitter of a Season: CSP Volleyball Season Preview;
Golden Bear Cross Country Preview;
Opinion:
Affordable College: What's the Best Way to Make it Happen?;
Tips and Tricks for a Smooth Transition to Dorm Living;
Words of Wisdom from the Early Birds;
From The Blue Wave to a Presidential Tsunami;
A Bloody American Year;
The Fight Against Corruption in North Carolina;
From Beans to Bags: Making the Switch from Coffee to Tea;
Be Your Dog's Best Friend: Tips for Responsible Dog Ownership;
Straws are the Least of Turtles' Concerns;
The Subtle Encouragement of Body Insecurity;
Copyright
This is not an official CSP publication and does not necessarily reflect the view of the administration, faculty, or staff. For all questions related to copyright and reuse of these materials, contact The Sword via email at sword@csp.edu.
Recommended Citation
Last, First. "Article Title."The Sword [St Paul] Mon YEAR: pages. https://digitalcommons.csp.edu/sword/
Issues of The Sword are available for CSP students, faculty, and staff. Please create an account and sign in with your @csp.edu email address for full text access to this issue of The Sword.
COinS