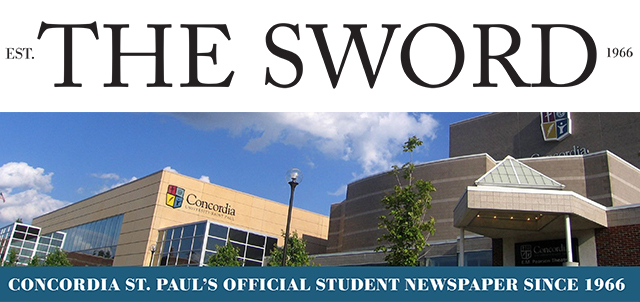 Title
Editor in Chief
Brooke Steigauf
Description
Contents
Front Matter
News
CSP Celebrates MLK Through Service
Faculty Spotlight: Operations and Janitorial Staff
McDouble, McChicken, McNuggets...McVegan?
Net Neutrality and You: How it Will Affect Your Netflix
Club Spotlight: Psychology Club Revamps Events and Involvement
U.S. Cold War Mentality
Only Super Bowl Goers Allowed on Light Rail: Game Day Creates a Game Changer for Commuters
Watch Out! You May Be Breaking Laws! Absurd and Downright Silly Minnesota Laws and Rules
Opinion
Single and Striving: How to Escape the Valentine's Day Blues While Single
Republican Tax Bill: What you Need to Know
The American Media and Islam: How Our Country Justifies Violence
What Makes a Happy Country?
Should Elected Officials Complete Psychological Evaluations?
Should the Media Consider a Period of Silence on President Trump?
Is Raising the Minimum Wage a Mistake?
Sports
Women's Basketball Update: Golden Bears Hit the Midseason Grind
Men's Basketball Update
Male Athlete of the Month: Avan Ward
Nine is Nice: Golden Bears Capture Their Ninth National Championship in 11 Years
Timberwolves Update: Jimmy Butler Leads the Improving Pack
CSP Lacrosse Looks to Build Off Inaugural Season
Softball is Swinging for the Fences in 2018
CPS Track Team Looks to Capitalize on Growth
Top Super Bowl Foods
Minnesota Wild Update
Women's Track and Field: Burney and Ighovojah's Relationship a Key Component to Success
Arts and Variety
High School Honors Exhibition Recap
Food Review: The Anchor Fish and Chips
Music Review: Beautiful Trauma by Pink
Artist Spotlight: Jennifer Her - The Impact of Art on One's Self
Book Review: Peace Like a River, Leif Enger
Theater Spotlight: Dylan Neils
In Honor of the Super Bowl: Concerts that are Representing Minnesota Loud and Proud
Writer Spotlight: Gabie Yang
Kingdom Come Preview: Q&A with the Director
Art in the Cities: "Prints on Ice"
Music Spotlight: Sierra Piepkorn
Tonya Harding, A Second Chance
Copyright
This is not an official CSP publication and does not necessarily reflect the view of the administration, faculty, or staff. For all questions related to copyright and reuse of these materials, contact The Sword via email at sword@csp.edu.
Recommended Citation
Last, First. "Article Title."The Sword [St Paul] December 2016: pages. https://digitalcommons.csp.edu/sword/