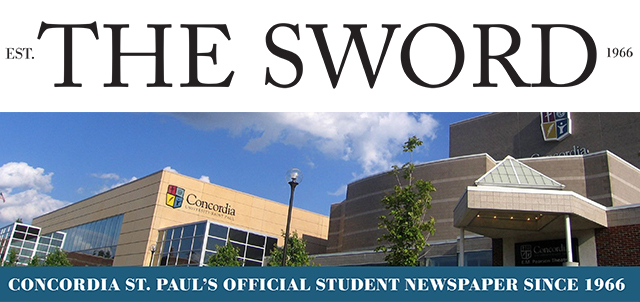 Title
Editor in Chief
Brooke Steigauf
Description
Contents
Front Matter
News
#MeToo Campaign: How One Tweet Started a Revolution
Concordia Blood Drive: Doing a Bit of Good for Someone
Club Spotlight: Student Organization for Latinos/as
Land That Job! How to be a Fantastic Interviewee
Is Lack of Sleep Dangerous to your Health?
Beautiful Feet in Your Shoes
Honolulu Says "Aloha" to Texting While Walking
Uber and Lyft Causing Traffic Problems
Sports
Cross Country Teams Sprints to Best Season in Recent Memory
Female Athlete of the Month: Brooklyn Lewis
Volleyball Set for Another National Title Run
Football team Sees Improvement in 2017 Season
Male Athlete of the Month: Noah Rasinski
Men's Basketball Looks to Build with Young Roster
Women's Basketball Starts Their Season with a Bang!
The Man Behind the Banners
An End to a Memorable Season for CSP Soccer
Opinion
Do We Need Stricter Gun Control?
Existential Gaps in the American Dream
Is Playing Football Worth the Risk of Serious Brain Injury?
Is America's Infrastructure Failing?
Net Neutrality
Standardized Testing Non-standardized Students
Should We Use Drone Warfare?
Starbucks v. Caribou: A Theory on What Your Favorite Coffee Shop Says About You
Social Media and Targeted Marketing: Should Targeted Ads Have You Worried?
Arts and Variety
A Review of the Current Exhibits at the Catherine G. Murphy Gallery
500th Anniversary Reformation Service Hits Home at CSP
Agnes of God: An Interview with Director Tim Payton
A Review of Turtles All the Way Down by John Green
CSP's Theater Presents: Luther
Art Spotlight: A Closer Look at Nick Schroepfer
Young Joni: A Unique Slice of NE Cuisine - How One Restaurant Goes Above and Beyond the Call of Pizza
Loving Vincent: A Review
Theatre Spotlight: Maurice Fields
Music Spotlight: Anna Karsten and Mikaela Krause
Copyright
This is not an official CSP publication and does not necessarily reflect the view of the administration, faculty, or staff. For all questions related to copyright and reuse of these materials, contact The Sword via email at sword@csp.edu.
Recommended Citation
Last, First. "Article Title."The Sword [St Paul] November 2016: pages. https://digitalcommons.csp.edu/sword/