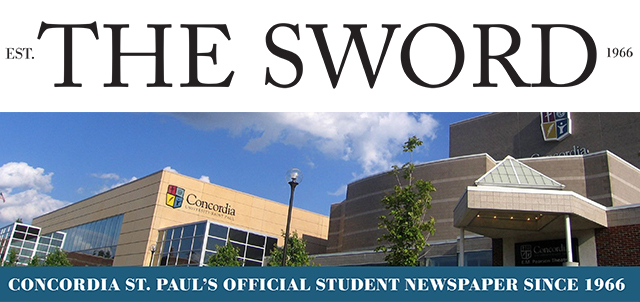 Title
Editor in Chief
Katrina Bell
Description
Contents
News
Club Spotlight: PEACE Finally Established
Rigged Elections, True or False?
Uber Rides Around Campus. Is This Uber Safe?
Harry Potter Trivia Night: How Well Do You Know the Wizarding World?
Faculty Spotlight: Kate Larson, The 2016 New Professional of the Year
Bartling Lecture Series: They Played for the Love of the Game
New Counseling Services at Concordia: Welcome Nystrom & Associates
The 2016 Presidential Election: "We are Americans First"
Election Results Cause an Uproar: Protests Break Out Across the U.S.
Beware the Clowns: A Nation in Fear
Annual MN Senate Internship Opportunity
Dakota Access Pipeline Protestors Are Not Backing Down
Dylan Yang Trial & Sentence
Sports
Chicago Cubs Win the World Series
Female Athlete Spotlight: Jade Weller
Male Athlete Spotlight: Bryndan Matthews
Women's Basketball: Looking Ahead
Women's Soccer: Awarded NSCAA Nationals
Football Update: Staying Optimistic
CSP Volleyball to Play in NSIC Tournament Quarter Finals
A New Home for the MN United FC Soccer Team
US Bank Stadium Review
Arts and Variety
Book of the Year: Reclaiming Conversation
Movie Review: The Girl on the Train, A Mystery Thriller
R. Roger Remington Highlights the Artwork and Creativity of Lester Beall
Revolution Radio: Green Day
St. Paul Art Crawl 2016
Crazy for You Review
Leaders of Design: Concordia Features the Work of Lester Beall
Food Review: Snuffy's
Artist Spotlight: Erica Pritchett
Opinion
Education Reform: How the System Needs to Improve
Mother-Daughter Day Disappointment
Should I Have Voted?
Copyright
This is not an official CSP publication and does not necessarily reflect the view of the administration, faculty, or staff. For all questions related to copyright and reuse of these materials, contact The Sword via email at sword@csp.edu.
Recommended Citation
Last, First. "Article Title."The Sword [St Paul] November 2016: pages. https://digitalcommons.csp.edu/sword/