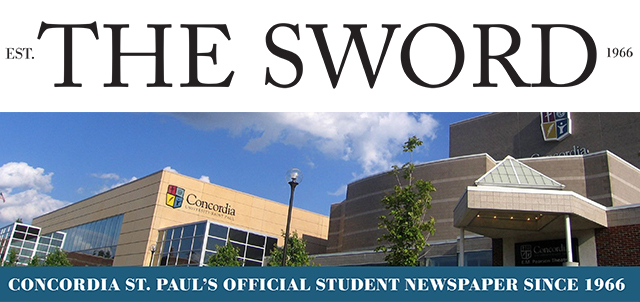 Title
Editor in Chief
Katrina Bell
Description
Contents
News
Minnesota Bloggers Conference
CSP Accounting Students Attend Local Conference
Spooktacular Activities in October
Stop and Drop the Cell Phone: Samsung Galaxy Note 7 Explosions
St. Cloud Stabbing and Shooting
Affordable College: The Value of the Price Tag
Canine Connections
Varsity Theater Under Scrutiny: Owner is Accused of Multiple Counts of Sex Abuse
Homecoming 2016 Re-cap You Betcha!
Sports
Female Athlete of the Month: Erin Spatenka
After Hot Start, Golden Bears Still Looking to Get Back on Track
Golf October Update
Male Athlete of the Month: Noah Rasinski
Ryder Cup Review
Concordia Women's Soccer: Kicking Forward
Back in the Swing of It
Arts and Variety
Movie Review: Love and Basketball
Book Review: The Silence of the Lambs
2016 Heginbotham Lecture Presents Kao Kalia Yang: The World Within
A Faculty Artist Recital
Artist Spotlight: Clare Beardsley
Music Spotlight: Jordayn Spike
CSP/Community Pop-Up Park Event
Concordia's Annual Shakespeare Under the Stars
Creative Writing Spotlight: Bailey Thompson
Opinion
An Open Criticism of the Personality and Policies of Donald Trump
Mrs. Clinton for President
Congress Overrules President Obama's Veto of 9/11 Bill 97-1
The Two-Party System
Copyright
This is not an official CSP publication and does not necessarily reflect the view of the administration, faculty, or staff. For all questions related to copyright and reuse of these materials, contact The Sword via email at sword@csp.edu.
Recommended Citation
Last, First. "Article Title."The Sword [St Paul] October 2016: pages. https://digitalcommons.csp.edu/sword/