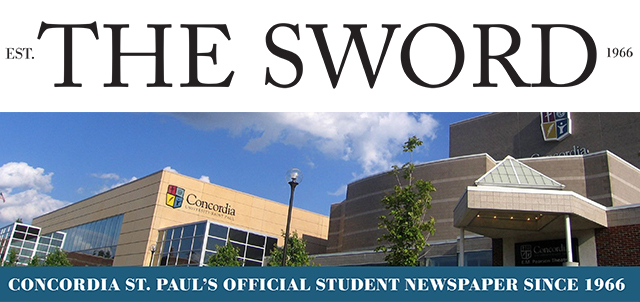 Title
Editor in Chief
Amanda Och
Description
Contents
Front Page
CSP Partners with Concordia School of Law: Introducing a 3+3 Law Degree
News
Professor Spotlight: Eric Dregni
Taize: CSP Weekly Prayer Service
March 2nd Convocation: Lessons from the Second Wave of Feminism
February 17th Convocation
University of St. Thomas Students Clean Their Schedules
Heidi's Holst Housing Tips!
Love Your Melon: Hats Off to a Good Cause
CSP Discusses Diversity: UMOJA Black History Month Event
Student Work Study at Concordia
Sports
Women's Basketball Update
Team Looks to Take Momentum from Inside to Outside
Concordia St. Paul Training Staff
National Signing Day Update
Golden Bears Season Highlighted by Home Success
Male Athlete of the Month: Eric Fasnacht
Female Athlete of the Month: Wakpor Ighovojah
Softball Update
Baseball Update
Arts and Variety
Food Review: The Suburban Cafe
Movie Review: Deadpool
Book Review: Unprocessed: My City-Dwelling Year of Reclaiming Real Food
Theatre Spotlight: Kate Sanvik
Shades of Harmony: CSP Gospel Choir
Off to St. Louis: Band Tour Preview 2016
Art Spotlight: Kathryn Lindquist
Dance Spotlight: Jordyn Joens
By The Bog of Cats: A Student Produced and Directed One Act
Book Review: What Pet Should I Get?
Copyright
This is not an official CSP publication and does not necessarily reflect the view of the administration, faculty, or staff. For all questions related to copyright and reuse of these materials, contact The Sword via email at sword@csp.edu.
Recommended Citation
Last, First. "Article Title."The Sword [St Paul] March 2016: pages. https://digitalcommons.csp.edu/sword/