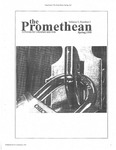 Publication Date
Spring 5-1-1995
Letter from the Editor
I would like to thank all of The Promethean staff and Dr. Wright for their dedication towards this project. The deadlines were quick to come, but with the help of Steve Jackson, Chris Martin, Andrew Werth, and Dr. Wright, the 1995 Spring Term edition of The Promethean was able to be born.
Well, it's the end of another term, and summer vacation is creeping up on us fast. Not only is it the end of the year; this year is also the last year of Concordia College. Next year will be a turning point in the history of both The Promethean and Concordia College. I hope that you will enjoy flipping through the pages of this fine piece of work. It has been a long and difficult task to bring you the best literary work out there.
Again, I hope you enjoy the works enclosed within these pages. Look for the next edition of The Promethean from Concordia University's first Winter Semester.
Managing Editor
Joshua Dwire
Faculty Advisor
Dr. Daniel Wright
Cover art by
Erich Schneider
Disciplines
Creative Writing | Fiction | Nonfiction | Poetry
Rights
The Promethean is an annual journal of the College of Theology, Arts, and Sciences of Concordia University-Pordand. The publication of The Promethean is made possible with funding from the Associated Students of Concordia University (ASCU). The content is chosen by an editorial staff of faculty and student editors. The opinions expressed in the journal do not necessarily reflect those of the College of Theology, Arts, and Sciences of Concordia University. All works are copyrighted.
Recommended Citation
English Department, Concordia University-Portland, "The Promethean, Volume 03, Number 03, Spring 1995" (1995). The Promethean. 9.
https://digitalcommons.csp.edu/cup_archives_promethean/9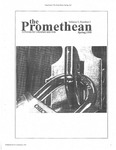 Included in
COinS