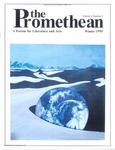 Publication Date
Winter 1-1-1995
Letter from the Editor
Well, I'm sure I'm not the only one that has had a crazy term. It has been full of excitement and deadlines, but through it all I have felt that The Promethean's outcome would reflect nothing but the excellence found on Concordia's campus. I hope that you will agree as you look through the pages of this term's issue.
I would like to take an opportunity to express my gratitude to all of those people who have helped me "learn the ropes" this term. First of all, thanks to my staff for accepting a new editor with no questions asked. I appreciate all the work that you have put in on this issue--it certainly shows. Also, thank you to those wonderfully, creative people that have put their hearts into their work and then decided to share it with the world. Your submissions are greatly valued. Next, a few personal thanks to those who supported me: Geramy, for your extra trips around town, Erich, for all the "brain-picking" that I did, and to my parents for the late nights on the computer (I promise to be more social now).
My congratulations to Randy Bush and Midge Kehoe for their $25 prize winning visual art entry. The cover looks terrific! I did not realize that such artistic talent was found within the Bush family tree.
I hope all those readers who crack these pages find the joy that this journal has brought to me. Enjoy reading it!
Managing Editor
Heidi R. Rapp
Assistant Managing Editor
Andy Werth (Short Story Editor), Steven Jackson (Poetry Editor), Chris Martin (Visual Arts Editor)
Faculty Advisor
Dr. Daniel Wright
Cover art by
Randy Bush, Midge Kehoe
Disciplines
Creative Writing | Fiction | Nonfiction | Poetry
Rights
The Promethean is an annual journal of the College of Theology, Arts, and Sciences of Concordia University-Pordand. The publication of The Promethean is made possible with funding from the Associated Students of Concordia University (ASCU). The content is chosen by an editorial staff of faculty and student editors. The opinions expressed in the journal do not necessarily reflect those of the College of Theology, Arts, and Sciences of Concordia University. All works are copyrighted.
Recommended Citation
English Department, Concordia University-Portland, "The Promethean, Volume 03, Number 02, Winter 1995" (1995). The Promethean. 8.
https://digitalcommons.csp.edu/cup_archives_promethean/8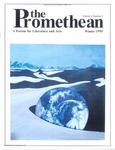 Included in
COinS