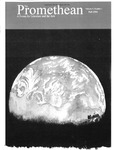 Publication Date
Fall 9-1-1994
Letter from the Editor
The Promethean is in it's third year of publication. With each year and issue the journal is growing. I hope that it will continue to grow and become an integral part of Concordia. This journal is a valuable means for Concordia students, staff and friends to share their creativity. I hope that all who read this issue will enjoy it's contents and find a piece with which to identify.
I would like to congratulate Bennett Tracy Huffman for winning our staff over with his poem. The poem A Jiifto for Somalia is the recipient of the $25 prize for this issue . I would also like to thank everyone who contributed to this issue. All of the works submitted are given careful evaluation and I appreciate everyone who is brave enough to let the staff critique their work. I must make a personal apology to Gary Altman, Greg Bye, and Lynn Drake. The essays that they submitted are not included in this issue due to a virus on the disk which contained their contributions. Please look for their essays in the next issue.
Managing Editor
Emily Junken
Assistant Managing Editor
Linda Pillifant (Short Story Editor), Josh Dwire (Poetry Editor), Gary Altman (Essay Editor)
Faculty Advisor
Dr. Daniel Wright
Disciplines
Creative Writing | Fiction | Nonfiction | Poetry
Rights
The Promethean is an annual journal of the College of Theology, Arts, and Sciences of Concordia University-Pordand. The publication of The Promethean is made possible with funding from the Associated Students of Concordia University (ASCU). The content is chosen by an editorial staff of faculty and student editors. The opinions expressed in the journal do not necessarily reflect those of the College of Theology, Arts, and Sciences of Concordia University. All works are copyrighted.
Recommended Citation
English Department, Concordia University-Portland, "The Promethean, Volume 03, Number 01, Fall 1994" (1994). The Promethean. 7.
https://digitalcommons.csp.edu/cup_archives_promethean/7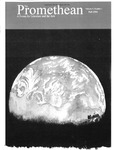 Included in
COinS