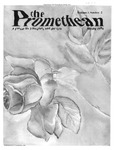 Publication Date
Spring 5-1-1994
Letter from the Editor
How does information affect noise? Information, we must steadily remember, is a measure of one's freedom of choice in selecting a message. The greater this freedom of choice, the greater is the uncertainty that the message actually selected is some particular one. Thus greater freedom of choice, greater uncertainty and greater information all go hand in hand.
From The Mathematics of Communication, by Warren Weaver.
I have been asked by several people, "What is The Promethean?" It dawned on me that in none of the previous issues has the origin of The Promethean's name been addressed. Prometheus was a God in Greek religion. He was very intellectual and a supreme trickster. His contribution to the human race was stealing fire from Zeus and returning it to man. Likewise, The Promethean seeks to steal "fire" in the form of art and literature and return it to the general population.
There are different ideas out there about what The Promethean is. Perhaps you've already noticed some changes in this issue like the color cover and the warped title text. The color cover will be (budget permitting) a regular occurrence. The title text is my own doing. Why? To illustrate a point--nothing is certain. Everything is open to change. There is no specific type of work or genre that we limit ourselves to. If you have written, drawn or photographed anything that is unique and creative, we want to print it!
Now that this issue is complete I must express many thanks: to the staff of The Promethean who put up with my endless requests and helped to create an outstanding issue; to everyone who submitted and filled otherwise empty pages; to Nancy in Student Services who gratefully shared her computer time; to Heidi for her input and understanding (and to whom I owe dinner); to the workers in the information office who sorted through piles of paper for me; to Bev Petersen for the use of her laser printer; to the employees of Davis and Fox printing who answered my endless questions; and to everybody else who made this issue possible.
My apologies to Aaron Brown for inadvertently "borrowing" a couple of numbers. (That's a bit cryptic, so don't panic if it makes no sense to you.)
This issue is dedicated in memory of Professor Clifford Horn.
Managing Editor
Erich S. Schneider
Assistant Managing Editor
Emily Junken (Short Story Editor), Lisa Hixson (Poetry Editor), Randy Kohltfaber (Essay Editor)
Faculty Advisor
Dr. Daniel Wright
Disciplines
Creative Writing | Fiction | Nonfiction | Poetry
Rights
The Promethean is an annual journal of the College of Theology, Arts, and Sciences of Concordia University-Pordand. The publication of The Promethean is made possible with funding from the Associated Students of Concordia University (ASCU). The content is chosen by an editorial staff of faculty and student editors. The opinions expressed in the journal do not necessarily reflect those of the College of Theology, Arts, and Sciences of Concordia University. All works are copyrighted.
Recommended Citation
English Department, Concordia University-Portland, "The Promethean, Volume 02, Number 03, Spring 1994" (1994). The Promethean. 6.
https://digitalcommons.csp.edu/cup_archives_promethean/6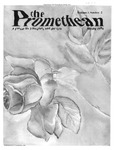 Included in
COinS