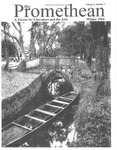 Publication Date
Winter 1-1-1994
Letter from the Editor
During the course of the term, I have been fortunate enough to have studied the many complex ideas behind the question, "What is a hero?" It has occured to me that heroes may do very little but stand for very much. Consider the "hero" whom we applaud for saving someone's life: the action, in itself, may take very little time and is done with even less thought; the "hero" places herself in a perilous position in order that someone else may live, not to gain attention or reward. It is this force, this respect for humanity which holds us together.
In the same way, the writers herein are heroes. With the exception of thought-out intent to write a good piece, what they have contributed may take little time to read. However, the thoughts expressed in these pages stand for far more: concerns about relationships, origin, understanding, power, morality, and places of meaning in one's life are expressed for our thoughtful consideration. This force also holds us together; for we are communicative being whose lives depend on interaction, expression, and sharing.
I would personally like to thank the writers as the experience has been and will always be one of discovery.
Managing Editor
Steven D. Jackson
Assistant Managing Editor
Emily Junken (Prose Editor), Linda Pillifant (Poetry Editor), Erich Schneider (Visual Arts Editor)
Faculty Advisor
Dr. Daniel Wright
Cover art by
Erich Schneider
Disciplines
Creative Writing | Fiction | Nonfiction | Poetry
Rights
The Promethean is an annual journal of the College of Theology, Arts, and Sciences of Concordia University-Pordand. The publication of The Promethean is made possible with funding from the Associated Students of Concordia University (ASCU). The content is chosen by an editorial staff of faculty and student editors. The opinions expressed in the journal do not necessarily reflect those of the College of Theology, Arts, and Sciences of Concordia University. All works are copyrighted.
Recommended Citation
English Department, Concordia University-Portland, "The Promethean, Volume 02, Number 02, Winter 1994" (1994). The Promethean. 5.
https://digitalcommons.csp.edu/cup_archives_promethean/5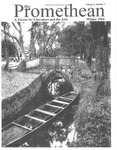 Included in
COinS