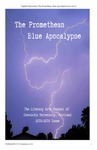 Publication Date
Spring 5-1-2019
Letter from the Editor
Like any other, this past year was full of many hard lessons that were difficult to swallow. It's easy to feel like the world is falling apart sometimes, or worse, that you're alone in the devastation. However, remember that when it feels like the end of the world, you will find sanctuary in your community, your loved ones, your passions, and in yourself.
It is my greatest hope that you also will find sanctuary throughout these pages, a collection of our voices coming together to create something beautiful.
This issue is dedicated to the College of Arts & Sciences. In times of struggle, I would like to reiterate some of the most important lessons I've learned in these classes:
Think critically, but do not underestimate the power of a gut feeling.
Do not be happy with the wrong answer because it is the easiest.
Never leave a question blank. Go for partial credit.
Listen actively to others, because diversity is what empowers discourse.
Remember to cite your sources.
On behalf of Dr. Kimberly Knutsen, my Assistant Managing Editor, Julia Guzman, our team of student editors, and all of our talented contributors, I am honored to present to you the 2018-2019 issue of The Promethean: Blue Apocalypse.
-- Sydney Rose Quintana, Managing Editor
Managing Editor
Sydney Rose Quintana
Assistant Managing Editor
J.C.G.
Faculty Advisor
Dr. Kimberly Knutsen
Cover art by
Garrett Broberg
Disciplines
Creative Writing | Fiction | Nonfiction | Poetry
Rights
The Promethean is an annual journal of the College of Theology, Arts, and Sciences of Concordia University-Pordand. The publication of The Promethean is made possible with funding from the Associated Students of Concordia University (ASCU). The content is chosen by an editorial staff of faculty and student editors. The opinions expressed in the journal do not necessarily reflect those of the College of Theology, Arts, and Sciences of Concordia University. All works are copyrighted.
Recommended Citation
English Department, Concordia University-Portland, "The Promethean, Volume 27, Blue Apocalypse, 2019" (2019). The Promethean. 43.
https://digitalcommons.csp.edu/cup_archives_promethean/43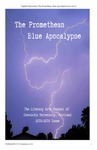 Included in
COinS