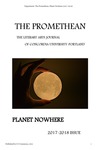 Publication Date
Spring 5-1-2018
Letter from the Editor
The first week of the semester, our editing staff sat down and tried to come up with a theme for this journal that would encapsulate the Concordia community, with all its beauty, flaws, and in-betweens.
To us, Planet Nowhere means the feeling of hopelessness and the intimidation of the unknown. But it also means endless possibilities and the beauty of the expanse before us. No matter how lost we may be, we can find our way home.
We wanted to build a sense of community within our pages, where people were free to share their dreams, fears, triumphs and losses… and the in-betweens. This journal was a labor of love. It has been a messy, beautiful road to turn an idea into a very real literary journal, and I am so thankful to be a part of it.
On behalf of Dr. Kimberly Knutsen, my Co-Managing Editor Julia Guzman, our wonderful staff of student editors, and our talented contributors, I am honored to present to you the 2017-2018 issue of The Promethean: Planet Nowhere.
Managing Editor
Julia Cecilia Guzman, Sydney Rose Quintana
Faculty Advisor
Dr. Kimberly Knutsen
Cover art by
Randilee Sequeira Larson
Disciplines
Creative Writing | Fiction | Nonfiction | Poetry
Rights
The Promethean is an annual journal of the College of Theology, Arts, and Sciences of Concordia University-Pordand. The publication of The Promethean is made possible with funding from the Associated Students of Concordia University (ASCU). The content is chosen by an editorial staff of faculty and student editors. The opinions expressed in the journal do not necessarily reflect those of the College of Theology, Arts, and Sciences of Concordia University. All works are copyrighted.
Recommended Citation
English Department, Concordia University-Portland, "The Promethean, Volume 26, Planet Nowhere, 2018" (2018). The Promethean. 42.
https://digitalcommons.csp.edu/cup_archives_promethean/42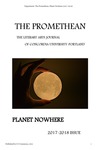 Included in
COinS