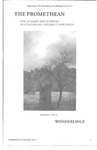 Publication Date
Fall 9-1-2010
Letter from the Editor
This year, The Promethean Staff wanted to encourage a large variety of entries. We wanted to get all sorts of submissions from all sorts of people. We didn't want to limit anyone. We also could not decide on a theme. So, we, the group of indecisive English majors, did what no literary journal staff has ever done before. That statement may or may not be true, but we did something pretty rare. We chose two themes. We decided we would have a double book, with two covers. One theme would be Wonderlings, the other Forbidden. The book would be able to be read from either direction. Of course it wouldn't be too hard to do, no problem. Ha.
Despite some of the unforeseen difficulties of doing a "double book," our original goal was achieved. We received many wonderful pieces from a variety of people. Here, in this collection, are the ones that made the cut. These are the poems that made us laugh, the photos that left us in awe, and the stories that caused us to regain hope in the future of writing.
We spent the year arguing about form, nitpicking comma placement, and hunting down people for copyedits and biographies. But we made it, and we are here, still standing strong, ready to present to you this year's edition of The Promethean.
This journal is a group effort. This could not have been done without all of our student editors, faculty and staff supporters, and of course, all of our wonderful contributors. Thank you everyone, for helping us make a journal full of exceptional work that we all can enjoy.
Managing Editor
Cassondra Shaw, Jeriann Watkins
Assistant Managing Editor
Benjamin Fitzgerald
Faculty Advisor
Dr. Kimberly Knutsen
Disciplines
Creative Writing | Fiction | Nonfiction | Poetry
Rights
The Promethean is an annual journal of the College of Theology, Arts, and Sciences of Concordia University-Pordand. The publication of The Promethean is made possible with funding from the Associated Students of Concordia University (ASCU). The content is chosen by an editorial staff of faculty and student editors. The opinions expressed in the journal do not necessarily reflect those of the College of Theology, Arts, and Sciences of Concordia University. All works are copyrighted.
Recommended Citation
English Department, Concordia University-Portland, "The Promethean, Volume 19, Number 01, Wonderlings, Fall 2010" (2010). The Promethean. 34.
https://digitalcommons.csp.edu/cup_archives_promethean/34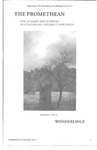 Included in
COinS