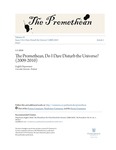 Publication Date
Spring 5-1-2010
Letter from the Editor
The vision for The Promethean this year was a journal not afraid to be bold. Not afraid to disturb this universe that we perceive and expose reality. Leading the editorial staff this year as Managing Editor was not easy. My predecessors set the expectations high and have set a precedent of continual improvement; this seemed a little daunting.
As with every project of this caliber there were complications alongside wonderful submissions and miscommunications that accompanied deep conversation. I consider myself lucky when I look at my editing team. As a staff we are passionate about many styles of writing, about not only the finished product but the process every writer goes through and the impact writing has on those who read it.
As a staff we encourage all writers, whether a senior English major or a sophomore Business major, to submit their best work to The Promethean. This collection, we believe, showcases some of the best writers Concordia Pordand has to offer this year.
This could never have been done by any individual and many people deserve sincere thanks. Many thanks go out to the editorial staff, contributors, and all those behind the scenes who made this journal possible, to all those who have allowed their writing to disturb just a little bit of the universe. On behalf of all those who have worked so diligently I present to you the 2009-2010 edition of The Promethean: Do I Dare Disturb the Universe?
Managing Editor
Cassondra Shaw
Assistant Managing Editor
Jeriann Watkins
Faculty Advisor
Dr. Kimberly Knutsen
Cover art by
Christina Busby
Disciplines
Creative Writing | Fiction | Nonfiction | Poetry
Rights
The Promethean is an annual journal of the College of Theology, Arts, and Sciences of Concordia University-Pordand. The publication of The Promethean is made possible with funding from the Associated Students of Concordia University (ASCU). The content is chosen by an editorial staff of faculty and student editors. The opinions expressed in the journal do not necessarily reflect those of the College of Theology, Arts, and Sciences of Concordia University. All works are copyrighted.
Recommended Citation
English Department, Concordia University-Portland, "The Promethean, Volume 18, Do I Dare Disturb the Universe, 2010" (2010). The Promethean. 33.
https://digitalcommons.csp.edu/cup_archives_promethean/33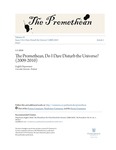 Included in
COinS