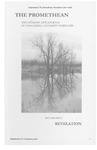 Publication Date
Spring 5-1-2008
Letter from the Editor
On each side of the river stood the tree of life, bearing twelve crops of fruit, yielding its fruit every month. And the leaves of the tree are for the healing of nations.
--Revelation 22:2
Minor things can become moments of great revelation when encountered for the first time.
--Margot Fonteyn
This year, The Promethean staff wanted a bold theme to complement last year's theme of Genesis. After much consideration, we felt Revelation would bring in a variety of submissions exploring the nature of endings and epiphanies. To our delight, this proved true, and we could not be more pleased with the journal this year.
The Promethean has seen great changes and growth over time; the 2007-2008 academic year has been no different. The fall and spring semesters brought in a plethora of new artists, fresh writing, and vivid photography. Submissions came from as far away as the East Coast and from as close as the Concordia community.
This issue has also been bittersweet for me personally. It is with reluctance and regret that I leave Concordia and The Promethean after graduation; three years on the staff, two of those as Managing Editor, have given me a sense of deep satisfaction, pride, and belonging. I will dearly miss the staff and working with them to compose an annual mosaic of Concordia's creative community. Therefore, it is with extreme pride that I and The Promethean staff present this year's Revelation issue to you.
Managing Editor
Johanna (Josie) Stephens
Assistant Managing Editor
Jess Bouchard
Faculty Advisor
Dr. Kimberly Knutsen
Cover art by
Sarah Grace Shewbert
Disciplines
Creative Writing | Fiction | Nonfiction | Poetry
Rights
The Promethean is an annual journal of the College of Theology, Arts, and Sciences of Concordia University-Pordand. The publication of The Promethean is made possible with funding from the Associated Students of Concordia University (ASCU). The content is chosen by an editorial staff of faculty and student editors. The opinions expressed in the journal do not necessarily reflect those of the College of Theology, Arts, and Sciences of Concordia University. All works are copyrighted.
Recommended Citation
English Department, Concordia University-Portland, "The Promethean, Volume 16, Revelation, 2008" (2008). The Promethean. 31.
https://digitalcommons.csp.edu/cup_archives_promethean/31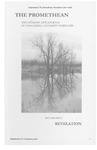 Included in
COinS