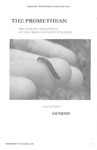 Publication Date
Spring 5-1-2007
Letter from the Editor
In the beginning, God created the heavens and the earth... And God said, "Let there be light," and there was light.
--Genesis 1:1,3
Passion is the genesis of genius.
--Anthony Robbins
In this issue, we explore the nature of beginnings. Our theme, Genesis, has brought in a broad range of submissions, from poetry reflecting on our Biblical roots to memoirs detailing first experiences at college. We asked the Concordia community to submit poems, nonfiction, artwork, photography, and short fiction that embraced our theme, but did not limit our acceptance only to work that was inspired by beginnings. What we found, however, is that almost anything can qualify as a beginning. Even an ending is a precursor to something new, something inspiring.
The Promethean has grown significantly in the past two years. This is very exciting for us and we hope the trend will continue. Our expanding staff helps to add diversity and knowledge to the review process.
We are extremely pleased with this year's issue and are proud to present it to you. We hope that The Promethean provides you with inspiration to continue on in struggle and in joy, knowing that others share the same human emotions, drives, and challenges. The Promethean is the voice of Concordia on an individual plane, and we will continue to welcome quality submissions that explore the broad range of humanity on personal, political, spiritual, and social levels.
Managing Editor
Johanna (Josie) Stephens
Faculty Advisor
Dr. Kimberly Knutsen
Cover art by
Jess Bouchard
Disciplines
Creative Writing | Fiction | Nonfiction | Poetry
Rights
The Promethean is an annual journal of the College of Theology, Arts, and Sciences of Concordia University-Pordand. The publication of The Promethean is made possible with funding from the Associated Students of Concordia University (ASCU). The content is chosen by an editorial staff of faculty and student editors. The opinions expressed in the journal do not necessarily reflect those of the College of Theology, Arts, and Sciences of Concordia University. All works are copyrighted.
Recommended Citation
English Department, Concordia University-Portland, "The Promethean, Volume 15, Genesis, 2007" (2007). The Promethean. 30.
https://digitalcommons.csp.edu/cup_archives_promethean/30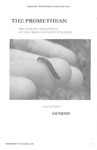 Included in
COinS