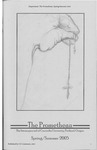 Publication Date
Spring 5-1-2005
Letter from the Editor
For this Spring 2005 issue of The Promethean, I have had the honor of being Student Editor. It has been both challenging and fun reviewing the literary work of my peers and having the privilege of working with them to create this unique issue. Through the course of this semester, while working on The Promethean staff, I have recognized the meaning of integrity in literature.
Concordia University is a Lutheran school that works hard to uphold and demonstrate Christian values. While some of the material printed in this issue may not directly reflect the views or mission statement of the University, we at The Promethean have made a distinct effort to recognize Concordia's diverse community, resurrected in the work printed in the following pages.
I would like to thank the College of Theology, Arts and Sciences for supporting this publication so faithfully, and Student Government for its generous funding and interest in keeping this work circulating and alive. I would also like to thank Aaron Snyder, Student Editor, who did an exemplary job of screening and editing the writing that was submitted, and worked very hard to release this unique edition of The Promethean. I would also like to thank all of the students and faculty that contributed their writing and art, and giving all of us the opportunity to learn from their perspectives. It has been our goal through this issue to offer our readers new angles on the human condition through the expression of the vast spectrum of the widely different personalities that constitute the glue that holds together the Concordia community.
Assistant Managing Editor
Sara Bonacum, Aaron Snyder
Faculty Advisor
Lynnell Edwards
Cover art by
Aaron Snyder
Disciplines
Creative Writing | Fiction | Nonfiction | Poetry
Rights
The Promethean is an annual journal of the College of Theology, Arts, and Sciences of Concordia University-Pordand. The publication of The Promethean is made possible with funding from the Associated Students of Concordia University (ASCU). The content is chosen by an editorial staff of faculty and student editors. The opinions expressed in the journal do not necessarily reflect those of the College of Theology, Arts, and Sciences of Concordia University. All works are copyrighted.
Recommended Citation
English Department, Concordia University-Portland, "The Promethean, Volume 13, Number 02, Spring/Summer 2005" (2005). The Promethean. 28.
https://digitalcommons.csp.edu/cup_archives_promethean/28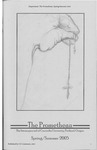 Included in
COinS