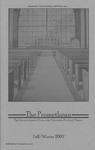 Publication Date
Fall 9-1-2002
Letter from the Editor
This issue of the Promethean marks several changes in the journal's look and mission. In keeping with the convention of many literary journals, we have moved to a half-page format and standardized our layout so that the focus is on the written words our contributors have shared. The decision to feature artwork only on the cover was difficult, and we hope that our planned website will provide students with an opportunity to share their talents on-line. We are also featuring, in this issue and in forthcoming fall/winter issues, the winners of our themed essay contest. This fall the contest asked writers to respond to the events of September 11. Our judge, Dr. Herbert Hoefer, read the entrants, selected a first and second place winner and shared his perspectives on the contributions. We are grateful for his expertise as reader and appreciate deeply his commitment to literary excellence at Concordia.
Our mission, however, has remained largely the same but with an eye toward expanding the journal's readership beyond the campus community. We see our role as the journal of literary arts at Concordia University, Portland. As such we seek to publish the best in serious poetry, fiction, and essays from members of the Concordia community, including students, staff, faculty, and alumni. The journal will also largely remain a student created text, with student editors playing a large role in decisions about content and production.
We hope these changes will benefit the readers and writers for the Promethean, and we welcome suggestions and contributions to the journal.
Faculty Advisor
Lynnell Edwards
Cover art by
Leigh-Ann Stohl
Disciplines
Creative Writing | Fiction | Nonfiction | Poetry
Rights
The Promethean is an annual journal of the College of Theology, Arts, and Sciences of Concordia University-Pordand. The publication of The Promethean is made possible with funding from the Associated Students of Concordia University (ASCU). The content is chosen by an editorial staff of faculty and student editors. The opinions expressed in the journal do not necessarily reflect those of the College of Theology, Arts, and Sciences of Concordia University. All works are copyrighted.
Recommended Citation
English Department, Concordia University-Portland, "The Promethean, Volume 11, Number 01, Fall/Winter 2002" (2002). The Promethean. 23.
https://digitalcommons.csp.edu/cup_archives_promethean/23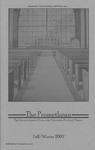 Included in
COinS