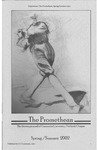 Publication Date
Spring 5-1-2002
Letter from the Editor
Welcome to the Spring/Summer 2002 issue of The Promethean. In addition to thoughtful work by the poets and fiction writers of the Concordia University community, we also feature the winners of our second annual Best Freshman Essay contest. Judged by Professor of Education, Dr. Jan Albrecht, this contest showcases work written by students for their English 121 classes.
With this issue, we also announce the terms of our annual prize in creative writing. Each year we will ask a distinguished writer from the community to read the contributions to the Fall/Winter and Spring/Summer issues of the journal and make a first and second place selection from among the fiction and poetry entries. There are no requirements that the reader pick one of each, simply that he or she choose the two entries that best demonstrate literary excellence.
This year poet and writer Kim Stafford, who also directs the Northwest Writing Institute, will evaluate the works in the two published issues and announce his selection in the Fall/Winter 2003 issue. We are grateful to our two contest judges for their expertise and support of the literary arts at Concordia University.
We hope you enjoy our contribution to summer reading!
Faculty Advisor
Lynnell Edwards
Disciplines
Creative Writing | Fiction | Nonfiction | Poetry
Rights
The Promethean is an annual journal of the College of Theology, Arts, and Sciences of Concordia University-Pordand. The publication of The Promethean is made possible with funding from the Associated Students of Concordia University (ASCU). The content is chosen by an editorial staff of faculty and student editors. The opinions expressed in the journal do not necessarily reflect those of the College of Theology, Arts, and Sciences of Concordia University. All works are copyrighted.
Recommended Citation
English Department, Concordia University-Portland, "The Promethean, Volume 10, Spring/Summer 2002" (2002). The Promethean. 22.
https://digitalcommons.csp.edu/cup_archives_promethean/22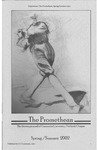 Included in
COinS