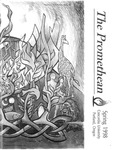 Publication Date
Spring 5-1-1998
Letter from the Editor
What a glorious spring! How lucky we are to live in such delightful surroundings. The Pacific Northwest is a gardener's delight, full of fertile soil and scenic beauty. Our own Concordia campus is a wonderful example of the exciting variety of blooms, blossoms, greenery, and landscaping that can be achieved here. It's such a treat to walk around campus and observe the many plants, lovingly tended by our grounds crew, all wildly blooming and sweetly scented. Your eye strays from one blossom to another ...to the ivy-covered brick walls...what a great oak tree...look, there's a daffodil next to a...cigarette butt? Can you believe it? Somebody just threw their cigarette right there on the ground—right next to the ashtray! In fact, the whole ground here is strewn thick with cigarette butts—how gross!
We have a beautiful campus here—don't ruin it by throwing your butts or other trash on the ground. Clean up after yourself! And if you see someone littering, get right in their face and demand they clean it up. We do not have maid service at Concordia!
Managing Editor
Dove Hotz
Disciplines
Creative Writing | Fiction | Nonfiction | Poetry
Rights
The Promethean is an annual journal of the College of Theology, Arts, and Sciences of Concordia University-Pordand. The publication of The Promethean is made possible with funding from the Associated Students of Concordia University (ASCU). The content is chosen by an editorial staff of faculty and student editors. The opinions expressed in the journal do not necessarily reflect those of the College of Theology, Arts, and Sciences of Concordia University. All works are copyrighted.
Recommended Citation
English Department, Concordia University-Portland, "The Promethean, Volume 06, Number 02, Spring 1998" (1998). The Promethean. 15.
https://digitalcommons.csp.edu/cup_archives_promethean/15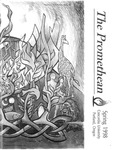 Included in
COinS