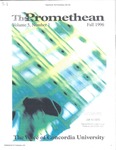 Publication Date
Fall 9-1-1996
Letter from the Editor
Welcome to the all new, mostly different, Promethean
If you paid any attention to anything over the course of the past semester, you probably saw or heard something about a "big double issue" of The Promethean coming in March." If so, you may be just a wee bit confused right about now, and I don't really blame you. This isn't the double issue, and none of the publicity ever said anything about an end-of-semester issue this term.
You may also be wondering about Manna, which until recently was the student newspaper here at Concordia, and why there hasn't been an issue yet. Well, you're looking at it. Thanks to a number of factors (most of which would, I fear, prove insanely boring), The Promethean and Manna have combined forces, merging their best features into one publication.
With this change comes a change in our publishing schedule. In the past, The Promethean has come out once every term, be it the semesters that started last year or the quarters which came before. Next semester, we begin our new twice-a-semester frequency. One issue will come at midterm, and the other will come at the end. This may seem a tad ambitious, but we feel it is the best, and perhaps only, way to keep the news we report at least somewhat current.
It also provides us the chance to print more of the fiction, poetry, and artwork that are synonymous with The Promethean, in addition to a number of new features. We have always relied upon student submissions, and that is not going to change; our new format and philosophy (news as well as literature) provide opportunities for your submissions in your preferred area, be it literary, artistic, editorial, or news. And in case you're wondering, the two contests which had been announced for March's now-defunct big double issue have been split between the two scheduled issues: the winning poem will be showcased in one issue, and the winning short story will be the showpiece of the other. More details will come as soon as we work them out.
Enjoy!
Managing Editor
Andrew Rothery
Disciplines
Creative Writing | Fiction | Nonfiction | Poetry
Rights
The Promethean is an annual journal of the College of Theology, Arts, and Sciences of Concordia University-Pordand. The publication of The Promethean is made possible with funding from the Associated Students of Concordia University (ASCU). The content is chosen by an editorial staff of faculty and student editors. The opinions expressed in the journal do not necessarily reflect those of the College of Theology, Arts, and Sciences of Concordia University. All works are copyrighted.
Recommended Citation
English Department, Concordia University-Portland, "The Promethean, Volume 05, Number 01, Fall 1996" (1996). The Promethean. 12.
https://digitalcommons.csp.edu/cup_archives_promethean/12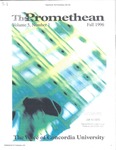 Included in
COinS