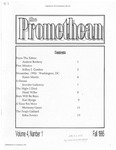 Publication Date
Fall 9-1-1995
Letter from the Editor
Change.
For many people, it is the only thing in this world that is really consistent. I am not one of those people, but I do have to admit that a lot of it sure does seem to happen a lot of the time. It happens so fast, on occassion, that nobody can keep up.
Take, for example, what happened this summer. Concordia became a University. The old quarter system was replaced by semesters. Weber Hall was completely and drastically remodeled.
Any one of those changes can be dealt with easily. Some people may even be able to handle two or all three of them. But Concordia's changes go further than just that. People graduated, transferred, and left for other reasons. They were replaced, to a small extent, by a new group of freshmen and transfer students. Each change in the student body is reflected in the basic feel of the campus. Who knows how many years go by before a former student can come back and barely recognize his or her surroundings? Many of the pieces in this issue of The Promethean deal with change to some extent. The winner of the short story contest, Heidi Wilke, features one of the most drastic and more permanent forms of change, but I'll let you read that for yourself.
A magazine like this does not come about through the efforts of a lone person. Thanks go to my staff, whose names are listed to the right, for the effort they put into helping select the contents of this issue. Special thanks go to Dr. Wright, who, on the first day of the semester called me into his office and asked if I would like to be the editor. Hopefully, his faith in my skill has been rewarded.
Managing Editor
Andrew Rothery
Faculty Advisor
Dr. Daniel Wright
Disciplines
Creative Writing | Fiction | Nonfiction | Poetry
Rights
The Promethean is an annual journal of the College of Theology, Arts, and Sciences of Concordia University-Pordand. The publication of The Promethean is made possible with funding from the Associated Students of Concordia University (ASCU). The content is chosen by an editorial staff of faculty and student editors. The opinions expressed in the journal do not necessarily reflect those of the College of Theology, Arts, and Sciences of Concordia University. All works are copyrighted.
Recommended Citation
English Department, Concordia University-Portland, "The Promethean, Volume 04, Number 01, Fall 1995" (1995). The Promethean. 10.
https://digitalcommons.csp.edu/cup_archives_promethean/10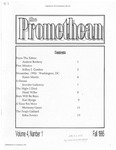 Included in
COinS