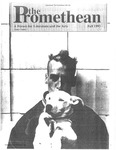 Publication Date
Fall 9-1-1992
Letter from the Editor
Welcome to the first issue of Concordia's literary journal, The Promethean. I could go on and say how much blood, sweat and tears went into the development of this journal, or how hard it has been to put out the first issue of a forum like this, but I won't. Instead, I'd rather focus on some of the work that has been submitted for your enjoyment this time around. Surprisingly enough, we have received submissions from a vast number of students on campus, students from other campuses, and faculty here and elsewhere.
Since this is our first undertaking, the pieces that we received varied in theme--everything from politics to relationships, but many works, as I look with 20/20 hindsight, involved coming to grips with different sorts of feelings, be they anger, remorse, confusion, exhaltation, or even, (surprise) happiness.
I think everyone will find a little something that he/she will enjoy. We have a variety of poetry for all tastes, several "different" works of prose, a book review, an essay from Birmingham, England, and some interesting photographs.
Those of you who missed the deadline this time around will be interested to know that your works are being considered for our Winter issue, which should be published during the second or third week in March.
Last, I would like to take the time to thank the staff of the journal for the tons of material through which that they waded. We have constructed The Promethean as we have been flying, so to speak, which has made things difficult at times. The efforts of those evaluating the work have created the shape of this issue; we will now see the fruits of their decisions.
Once again, I hope that you will enjoy the works contained in these pages, and I encourage all of you to contribute works of your own.
Managing Editor
Aaron T. Brown
Assistant Managing Editor
Bobbi Day (Prose Editor), Christy Fehyl (Poetry Editor), Brent Meltzer (Visual Arts Editor)
Faculty Advisor
Dr. Daniel Wright
Cover art by
Brent Meltzer
Disciplines
Creative Writing | Fiction | Nonfiction | Poetry
Rights
The Promethean is an annual journal of the College of Theology, Arts, and Sciences of Concordia University-Pordand. The publication of The Promethean is made possible with funding from the Associated Students of Concordia University (ASCU). The content is chosen by an editorial staff of faculty and student editors. The opinions expressed in the journal do not necessarily reflect those of the College of Theology, Arts, and Sciences of Concordia University. All works are copyrighted.
Recommended Citation
English Department, Concordia University-Portland, "The Promethean, Volume 01, Number 01, Fall 1992" (1992). The Promethean. 1.
https://digitalcommons.csp.edu/cup_archives_promethean/1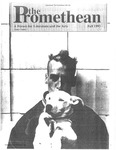 Included in
COinS